Comal Master Gardeners in Conjuction With AgriLife Extension Will Be Hosting the Annual Fall Garden Educator Training
One of Many Schools in Comal County Making School Gardens Successful!
Danville Middle School Garden
by Sydna Arnold
Mellissa Zipp, Librarian and National Junior Honor Society sponsor orchestrates seventy-five student NJHS members as they tend the gardens at Danville Middle School. The summer garden is producing well with cucumbers picked and potatoes ready to pick at the writing of this article. Favorite crops grown include potatoes, onions, broccoli, radishes, bell peppers, cucumbers, and tomatoes.
Maintenance and watering tasks are done by student volunteers who have been excited about the gardens since their inception. According to Mellissa, one of the advantages of the middle school garden is the ownership and value students feel about the importance of their work in the garden.
Maintaining and building relationships is important to the success of the garden project. Most of the produce has been donated to area food banks. Some of the crops are prepared by students cooking in the Principles of Human Services classes. Collaboration with the Principles of Manufacturing teacher resulted in shop students helping construct the new cinder block raised beds and fill them with soil. Plans are in the works with Communities in Schools to encourage students to meet outside in the garden for lunch next year.
In the late 1990s, Mellissa started the first school garden in Comal County at Comal Elementary. Partnering with Bexar Master Gardeners (before CMGA) she used square foot gardening to teach math and said, "There was a lot of string and lots of measuring."
Mellissa is the daughter of Judie and Bill Waechter and mother to Travis, who raised funds, planned the school gardens, and built them on campus as his Eagle Scout project in 2019. With three talented generations working on this project, the gardens are destined for continued success!
Student and Teacher "What to do each week in the school garden" Videos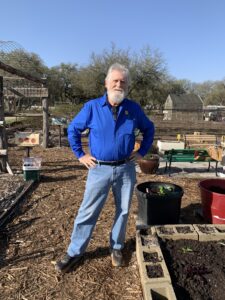 Tim Cronin helped with producing 10 school garden videos this past school year.
The new Youth Program assistant, Lauren Shumaker, introduced each 20 minute video along with producing and editing the final products.
Participating teachers were emailed A&M's Learn Grow Eat Go curriculum lessons that go along with the videos. If anyone is interested in getting the lessons email youthed@comalmg.com and they will be sent to you.
Youth Gardens Educator Resources

 Below you will find the recordings, lesson plans, and other resources available from our most recent training.